It is that time of the year when summer is on peoples minds. Will it be a washout? Will it be a hot summer? Hopefully our preliminary UK Summer Weather Forecast 2022 will give you the heads up!
Forecasting in the United Kingdom isn't as simple as some might think. Being an Island with the Atlantic to the west of us the North Sea to the east of us and the Irish sea sandwiched in between, it does give us some rather interesting and varied weather conditions throughout our seasons.
It would be easy to just say, yes, expect a washout summer in the UK. It does feel as though most of the long range forecasts for the summer period are all about disproving a washout scenario, however, don't worry. To the many of you that have followed me since the beginning, you should know by now that I say it as it is. Unlike your usual typical tabloids saying summer heatwaves every year to rake in the advertising revenue.
This year, I've used various long range models and signals to come to my preliminary conclusion for UK Summer 2022. In previous years I have been rather technical and displayed numerous fancy graphics and charts but people have struggled to understand them. So with that in mind, this years summer long range forecast, is all about making it simple and straight to the point, so everyone can hopefully understand it.
Like every year I publish this preliminary forecast and will revise the forecast during June and publish the full forecast. So without further ado, I bring to you this years UK Summer weather forecast.
Remainder of May
May so far has been a rather mixed bag with a wetter and cooler north and north-west with a drier east, south-east and south. Whilst we've seen some rainfall across southern areas throughout this week, many areas have seen very little in the way of amounts. Temperatures for much of England and Wales have been around average to slightly above.
Next week warmer weather will develop with lower pressure anchored to the west of the United Kingdom in the Atlantic. A slight rise in pressure to the ESE of the UK will allow a draw of much milder air from the near continent. What we call a plume.
Many western and northwestern areas will see the main bulk of rainfall next week as the low and its associated fronts move closer to the United Kingdom. Many southern and eastern areas are once again expected to avoid the main bulk of any frontal precipitation.
However, with increasing temperatures and surface heating under an increasingly unstable air mass, we run the risk of some homegrown thundery showers at times, a risk of some imports crossing the English Channel and on Wednesday fronts from the west engaging with the instability and heat across the eastern and southeastern quarter of the United Kingdom. There is the potential for some severe thunderstorms breaking out from Sunday-Wednesday.
The attached chart below shows how much precipitation in mm is expected during the next 7 days. It does not pick up convective precipitation (thundery showers) very well but you can clearly see the areas that are likely to see the main bulk of frontal rainfall next week.
The chart below shows the heights anomaly for next week. Lower heights to the west of the United Kingdom and higher heights to the east and south-east of the UK.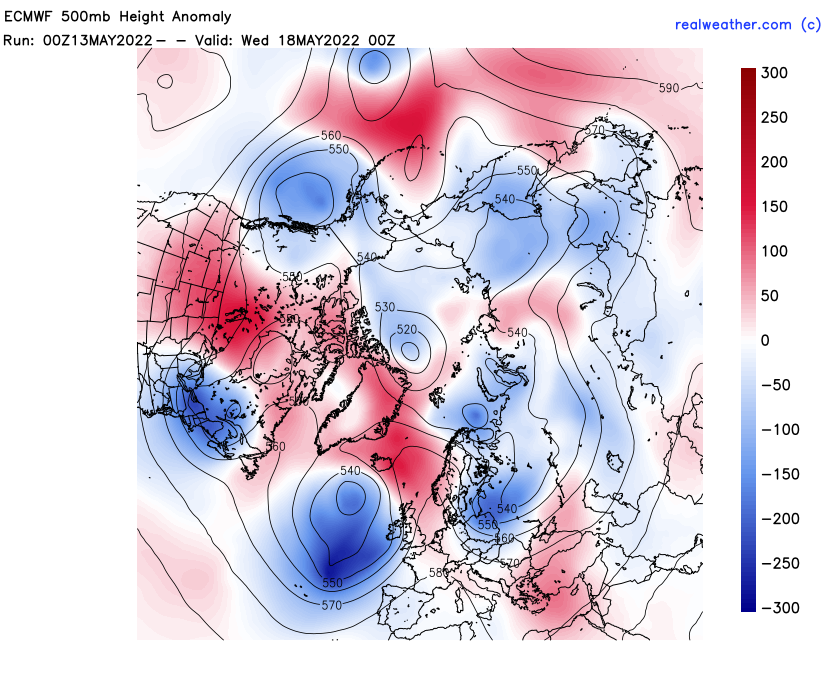 The overall synoptic trend for May after an unsettled spell of weather next week is for high pressure to be over or close by to the United Kingdom bringing drier and generally settled weather. Temperatures around average to slightly above average. We may see some cooler weather in the north at times as high pressure moves about.
May temperatures: Average to slightly above
May precipitation: Below average for much of England and Wales. Average in the north and north-west.
June – UK Summer Forecast
June is expected to be a month of settled weather with temperatures above average being indicated. This means that we're likely to see some longer spells of warmer weather with high pressure in charge and the risk of further plumes of much warmer air moving up from the near continent.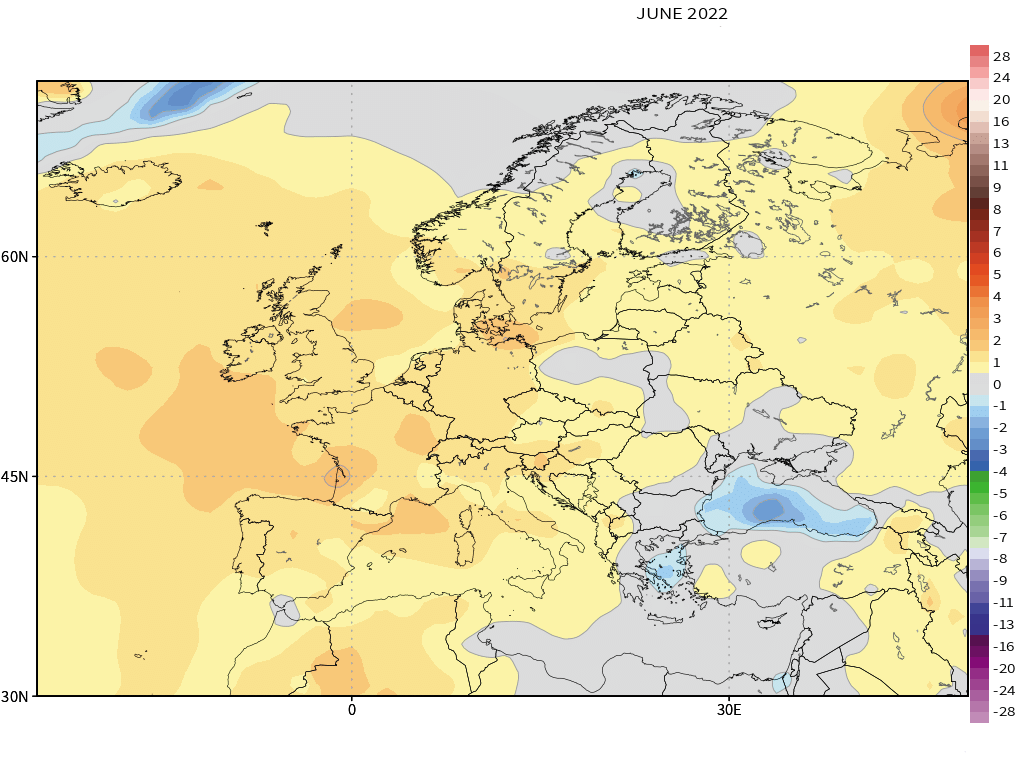 Mid-month I would expect some unsettled weather to develop at times, however, the general emphasis is on drier weather. In terms of precipitation the long range models are pointing towards slightly below average values. This does not mean there won't be some wetter spells at times.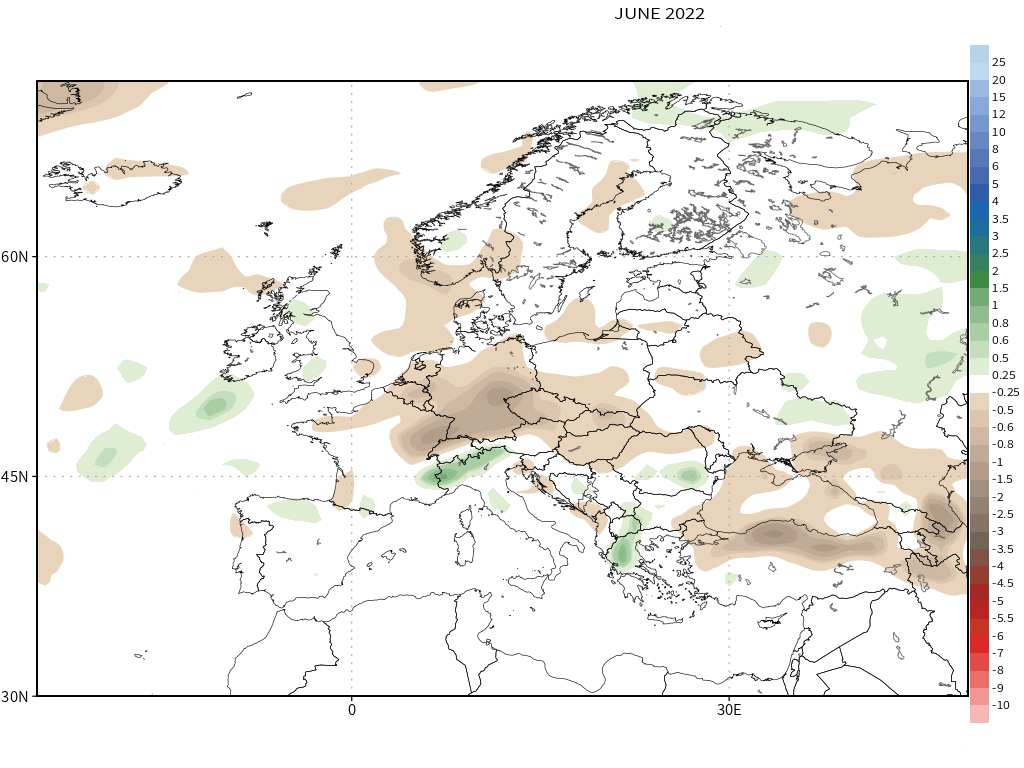 Conclusion for June
June temperatures: Above average
June precipitation: Below average for the majority
July – UK Summer Forecast
July normally proves to be a tricky month when it comes to long range forecasting, although I'm confident July this summer will be above average in terms of temperatures with some very warm weather at times. We may see some cooler weather and unsettled weather at times for the extreme north-west of the United Kingdom with much of England and Wales staying on the warmer side. Hot at times with thundery plumes. A change late month and to start August.
In terms of rainfall for July, many areas seeing around average to slightly below. However, for the far north-west, Northern Ireland, NW Scotland for example, amounts may be above the monthly average with lower pressure being persistent at times whilst higher pressure remains across the southern half of the United Kingdom. Showers and thunderstorms may bring the totals up across the east, south and south-east.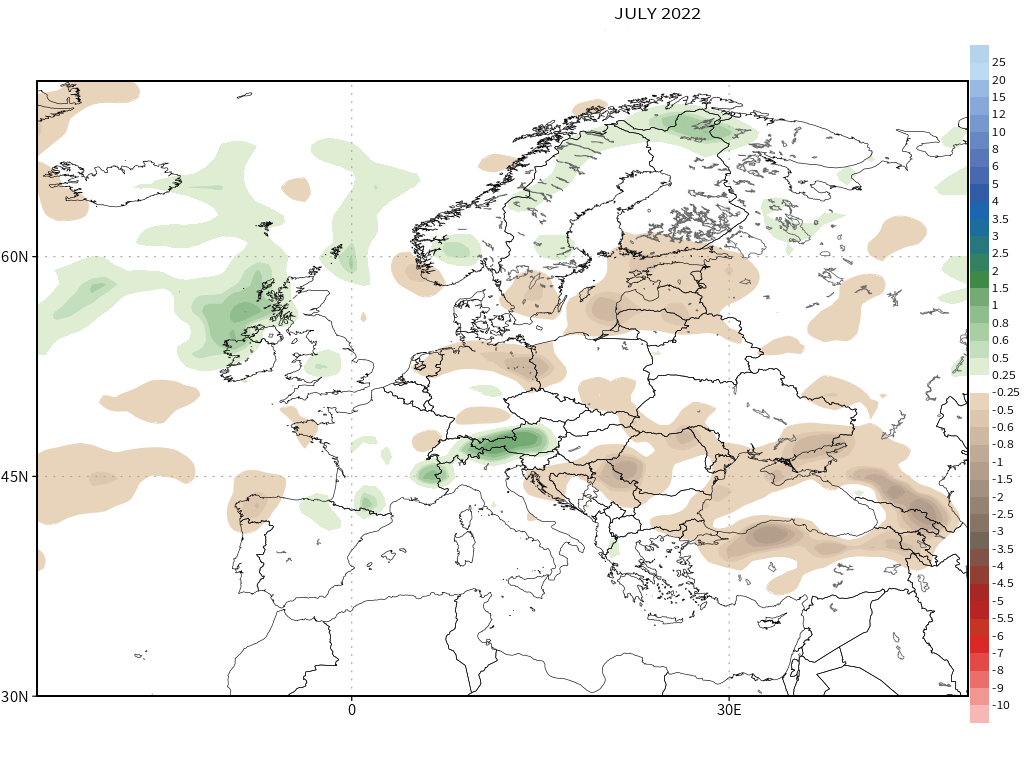 Conclusion for July
July temperatures: Above average
July precipitation: Average to slightly below in the south. Average to slightly above in the far north-west.
August – UK Summer Forecast
For August we're really pushing it in terms of long range forecasting so there's less certainty with regards to August. Despite this I'm fairly confident we'll see a change to the weather. Whilst for many, temperatures will be around average, we will see some much cooler weather at times with the trend to generally unsettled conditions, especially in the north of the country.
Precipitation amounts across the longer range models and signals vary but the general trend or signal is for average to above average amounts of rainfall.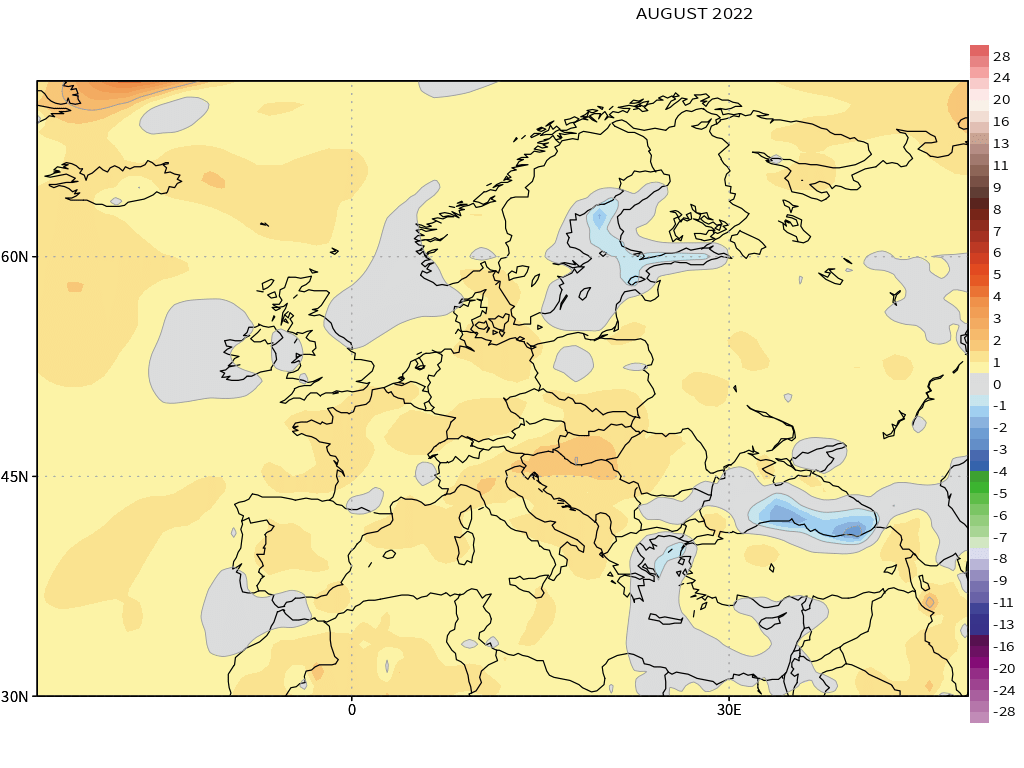 Conclusion for August
August temperatures: Average to slightly below average
August precipitation:  Above average rainfall, especially in the north and north-west
UK Summer forecast 2022 – Conclusion
Overall a decent summer to come. Above average temperatures for June and July, below average precipitation with temperatures around average to slightly below in August. I would say that August is the month that is most subject to change at this range and carries the most uncertainty. The full/final forecast will be published mid-June. Our summer forecast is powered by www.mudcontrol.co.uk
Lewis