It's that time of the year where everyone is wondering what Summer 2023 may bring to the United Kingdom. Follow this page for regular UK Summer Weather Forecast 2023 updates during the next couple of months.
Final UK Summer Forecast 2023 thoughts
It is now very likely that we'll experience an El Niño summer, looking in-depth at the Official Probabilistic ENSO Forecast, it is now clear that we are moving out of a La Niña and transitioning to an El Niño phase. The below graphic from the ENSO forecast shows a switch from a neutral phase in April to a much stronger signal of a El Niño phase into May, June, July and August. The El Niño event strengthens as we move into September, October and peaks during December.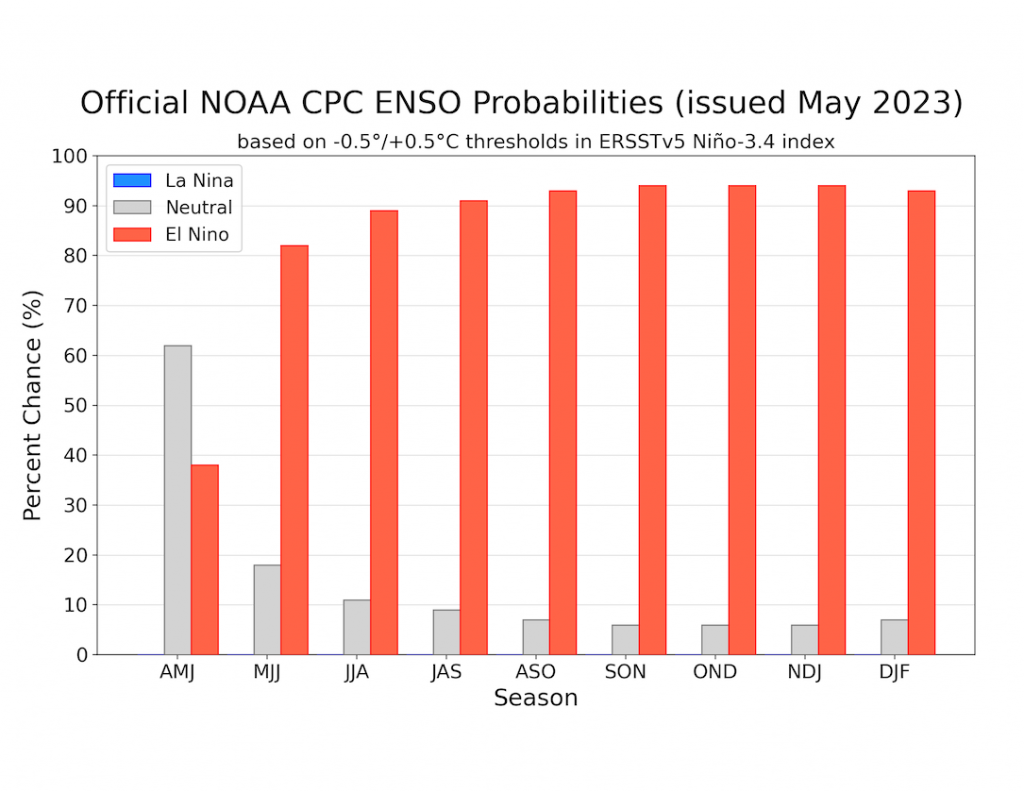 During El Niño phases, here in the United Kingdom, you would typically favor colder winters in the United Kingdom but we're way off predicting winter 2023/24 just yet!

Whilst El Niño summers in the United Kingdom don't guarantee hot summers, we have seen some rather warm years of late during an El Niño; 2016, 2019 and 2020 ended up being the top 3 warmest years on record globally and the United Kingdom experienced 37.8c at Heathrow on July 31st 2020, making it the UK's third hottest day on record.

The largest impact El Niño typical has is an increase in global temperatures and it is also known for more extreme weather events. There is normally a lag time during the transition with perhaps 2024 looking most likely to see some extreme weather conditions or impacts.

Last summer the UK baked in numerous prolonged warm and dry spells of weather. We also experienced record breaking temperatures across the United Kingdom with Scotland, England and Wales setting new records for maximum temperature achieved. It is worth noting these record breaking temperatures where during a La Niña phase which is what we're currently transitioning away from.


Summer 2022 record breaking temperatures
England:
40.3 °C (104.5°F)
on 19th July 2022, Coningsby, Lincolnshire.
Wales:
37.1 °C (98.8°F)
on 18th July 2022, Hawarden, Flintshire.
Scotland:
34.8 °C (94.6°F)
on 19th July 2022, Charterhall, Scottish Borders.
What is El Niño?
The name 'El Niño' is widely used to describe the warming of sea surface temperature that occurs every few years, typically concentrated in the central-east equatorial Pacific. An El Niño is declared when sea temperatures in the tropical eastern Pacific rise 0.5 °C above the long-term average.
El Niño is felt strongly in the tropical eastern Pacific with warmer than average weather. The effects of El Niño often peak during December; it's name "the boy" is thought to have originated as "El Niño de Navidad" centuries ago when Peruvian fishermen named the weather phenomenon after the newborn Christ.
UK Summer Weather Forecast 2023 & El Niño – my thoughts
Looking at the ENSO Forecast and MJO phases, I fully expect Summer 2023 to be warmer than average with numerous spells of very warm weather, hot at times, especially across England and Wales, however, I don't expect the extremes of last summer to be repeated.
We can expect some drier spells at times during Summer 2023 but I do believe we'll see an increase in thundery weather/thunderstorms this summer, compared to last.
I expect Northern Ireland, Ireland and the extreme west and south-west to see some wetter conditions throughout the summer with low pressure systems anchoring close by to the west or south-west of the UK.
This process will enhance thundery activity further east into England and Wales during any plume events or setups. A plume during the summer months is where very warm air sourced from Northern Africa heads north into Europe.
UK Summer Weather Forecast 2023 by month
Please find my final thoughts for UK summer 2023 by month below.
June
Precipitation:
Below average
Temperature:
Average to below in places
Pattern:
High pressure becoming more influential to start June, though cooler at times as we transition from Spring. Turning much warmer mid-month onwards.
July
Precipitation:
Below average
Temperature:
Above average
Pattern:
Certainly the warmest and driest month based on the current signals. We may find some wet weather affecting western areas at times, more especially NI, Ireland and SW England with better conditions further east. Thundery at times, especially later in the month.
August
Precipitation:
Above average in places, way above locally
Temperature:
Average in the west and south-west, above average elsewhere.
Pattern:
I fully expect August to deliver plenty of plume setups bringing a threat of hot and thundery weather.
For regular updates, please follow our Facebook page by clicking here.
Become a Pro Member